"I sell romance and fantasy."
Perhaps no clothing label is as renowned as Gunne Sax is for its Victorian styling, ruffles and lacy, romantically feminine dresses. Our closets are chockfull of the beloved calico prints immortalized by the Gunne Sax brand in prairie chic Gunnies skirts and flowing, ethereal hippie gowns fit for a bohemian princess.
Vintage Gunne Sax Dresses: A Timeless Romantic Fantasy
This beloved vintage brand is enjoying an enormous resurgence in popularity, with many women oohing and aahing as they eagerly scour the Internet for the nostalgic Gunne Sax label. Who would ever have predicted that in a time of panic, pandemic and protests, long dresses, ruffles and lace in women's clothing would be seeing a comeback?
The Gunne Sax label was born in the hippie era, when youth clung to the 'free spirit' motto that was reflected in their music, cars, and even hair styles. It was a time for freedom, it seems, attempting to escape parental control and worn-out cultural establishments.
And although the time was marked by protests and discontent over many longstanding issues, plenty of unique ideas were born during that era – and Gunne Sax was one of the heroines of the time – letting women express themselves in long, flowing Granny dresses, delicate prairie tops and feminine skirts, often embellished with layers of lace, ruffles, buttons and trim.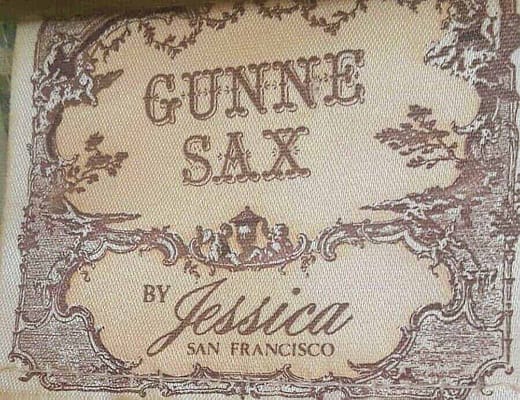 Women were expressing themselves in many ways. Gone were the short, tight permed hairdos of the 50s. Long, flowing hair, often with fresh flowers tucked in, became popular. The busty pinups of the 40s were long gone, miniskirts were often touted as sexist, and longer hemlines emerged as a form of insurrection against it.
 Calico, Ruffles & Lace: The Hallmarks of Gunne Sax
Born amid of time of societal change, Gunne Sax took pieces of the past to form into its own contemporary, unique look. Calico, ruffles and lace were hallmarks of the Gunne Sax line, pulling from the roots of the prairie days and the later Victorian era.
It combined the two eras and created its own distinct brand – a brand that has now stood the test of time, having been cherished by generations of women who appreciate the femininity it represents.

While the styles were historically based, Gunne Sax dresses were made from contemporary cottons or synthetic fibers. By using inexpensive materials that were easy to care for, the line was not only attractive to women, but allowed them an affordable wardrobe.
Its beginnings were humble. In the late 60s, Ellie Bailey was an avid sewer: a graduate of the Vogue School of Design in Chicago, she worked for Stevens Fabrics in California. Always eager to show novices how to master sewing, she often gave demonstrations to help would-be sewers.
During one of her sessions, she met design student Carol Miller. The two sketched their ideas on a napkin – tossed around names for their new line, then settled on Gunne Sax. According to Bailey's son, the name was a somewhat 'sexy' adaptation of the gunny sack, which were rough, burlap bags used for potatoes and sack races.
Jessica McClintock: Synonymous with Gunne Sax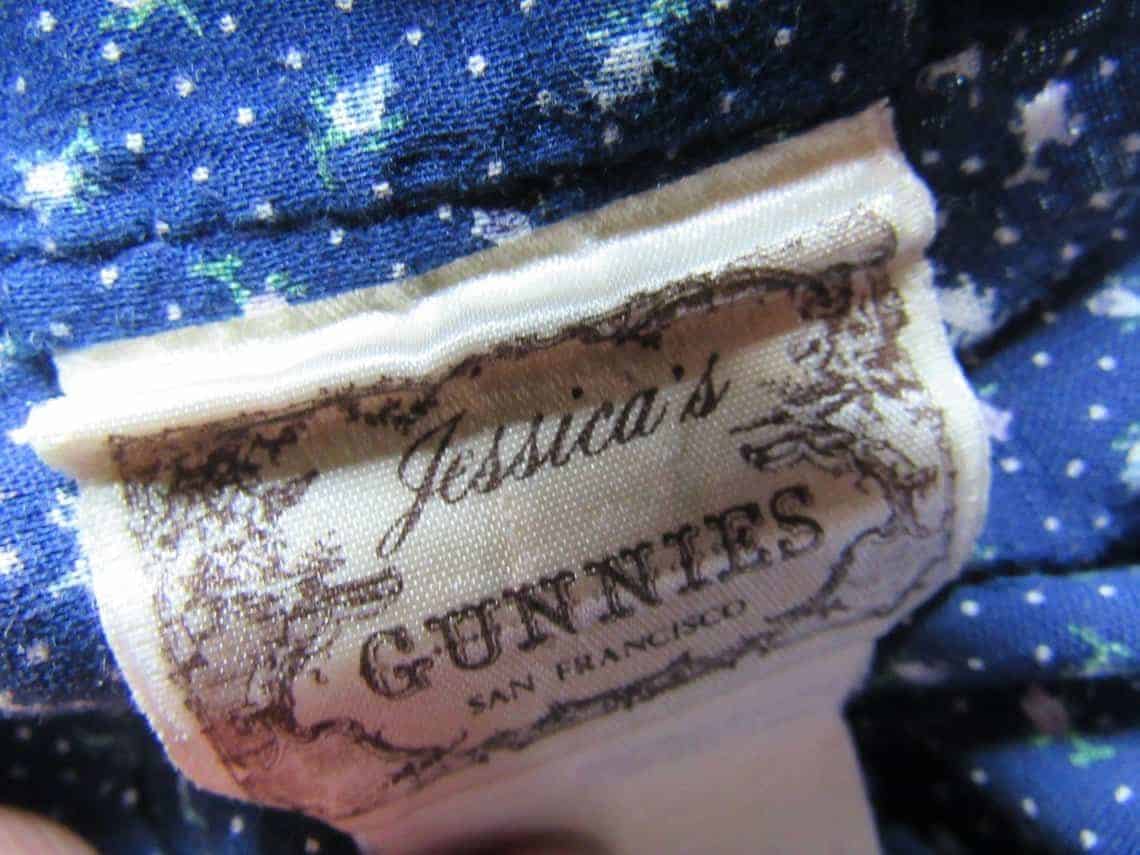 The two took custom orders and by 1968, business was doing well. When a large order for their new line of granny dresses came in, they knew they needed a new location. They found a loft in the garment district of San Francisco. Ellie Bailey bought out Carol in the late 60s, and new investment dollars were needed.
Jessica McClintock arrived – hardly with a background in clothing as an elementary school teacher – but with a passion for fashion. Ellie took her on. Shortly afterwards, a San Francisco department store began retailing some of the dresses. And women nationwide began to take notice.
In the mid-1970s, Ellie sold the business to Jessica McClintock. She was inspired and influenced by the free-spirited hippies and flower children of the era, who often made their own individual clothing statements. She thrived on thrift store finds. And, due to the fluid nature of fashion, Jessica's granny designs were integrated into a new era, with the 1920s and 1950s styles making appearances in her line.
Of her life, McClintock has stated, "I feel fortunate and lucky that I have a business that I created and that I love. I'm happy and very fulfilled in many areas of my life." She says she created her own concept of clothing based on nostalgia and romance using a combination of muslins, prints, ribbons, laces, and braids.
Vintage Gunne Sax Evokes Nostalgic Memories…
The rebirth of the popularity of vintage Gunne Sax clothing during these tumultuous times, like many of our customers have indicated, is a longing for happier days. So many are seeking comfort – comfort remembering the days of youth, comfort in remembering the items we grew up with.
Whether that was snuggling under a vintage chenille bedspread at Grandma's house or donning a Gunne Sax calico prairie dress, those sentimental feelings bring us much-needed comfort, a nostalgic feeling of security.
And it's not to say the good old days were perfect. As journalist Doug Larson aptly stated, "Nostalgia is a file that removes the rough edges from the good old days."
But just having those items from our past that gave us happiness and good feelings is like a natural elixir during today's times that seem ever so much more…complex.
So, bring on those happy, nostalgic remnants of the past that gently help us get through the present. See what Gunne Sax dresses & Gunnies skirts we have available currently.
With thanks to these sources for their historical background: