Ahhh….there's nothing so comforting as wearing a beloved vintage item of clothing.
You not only feel wonderful wearing it, but that vintage blouse, skirt, dress, or even a pair of jeans has a certain energy to it. Know what I mean?
To those who love vintage clothing (and I love all vintage clothing!), there are certain items that stand out above the rest. Why? It's the energy it has.
The Invisible Energy – and Comfort – of Vintage Clothing
Vintage Gunne Sax, Laura Ashley, or prairie dresses are a great example. To me, they're all lovely, with long flowing skirts, oodles of ruffles, ribbons, and lace – but there are some that exude a wonderful, loving energy.
The past owner has loved their dress, blouse, or skirt so much so that the item has absorbed their love. And you feel it.
Take a beautiful white vintage Gunne Sax maxi dress our shop just sold. Just looking at the dress- over 40 years old – it still retained its beauty – but had an aura of love wrapped into it. Some young woman once loved that dress so much that the dress took on that love. It had a beauty about it that wasn't just in the long, flowing dress, it was nestled into its fibers, it became a part of the gown…
Love Infused into Every Fiber
The love that a young girl had for her beloved Gunne or Laura Ashley dress had become part of the dress itself, as if that deep love were sewn into the seams, absorbed into the long, flowing gown so deeply that the vintage dress had transformed itself from just a fabric – to an iconic treasure of love, womanhood, of that powerful divine feminine.
I knew when we listed the vintage Gunne Sax dress it would sell as a wedding gown. Not only beautiful, in near mint condition, full length with generous sash ties and crocheted lace appliques, this dress had that special energy. This Gunne was so loved (like so many of the vintage Gunne Sax and Laura Ashley dresses are!) that an aura of love surrounded it. Whoever owned this special dress treasured it so – she felt beautiful – looked beautiful – in it.
And the new owner was so delighted with her vintage Gunne! It will be her wedding gown, and she, too, will add her love and memories to that dress that will someday pass on to another young woman who will feel its love.
Why Choose Vintage When You Can Just Buy New Clothes?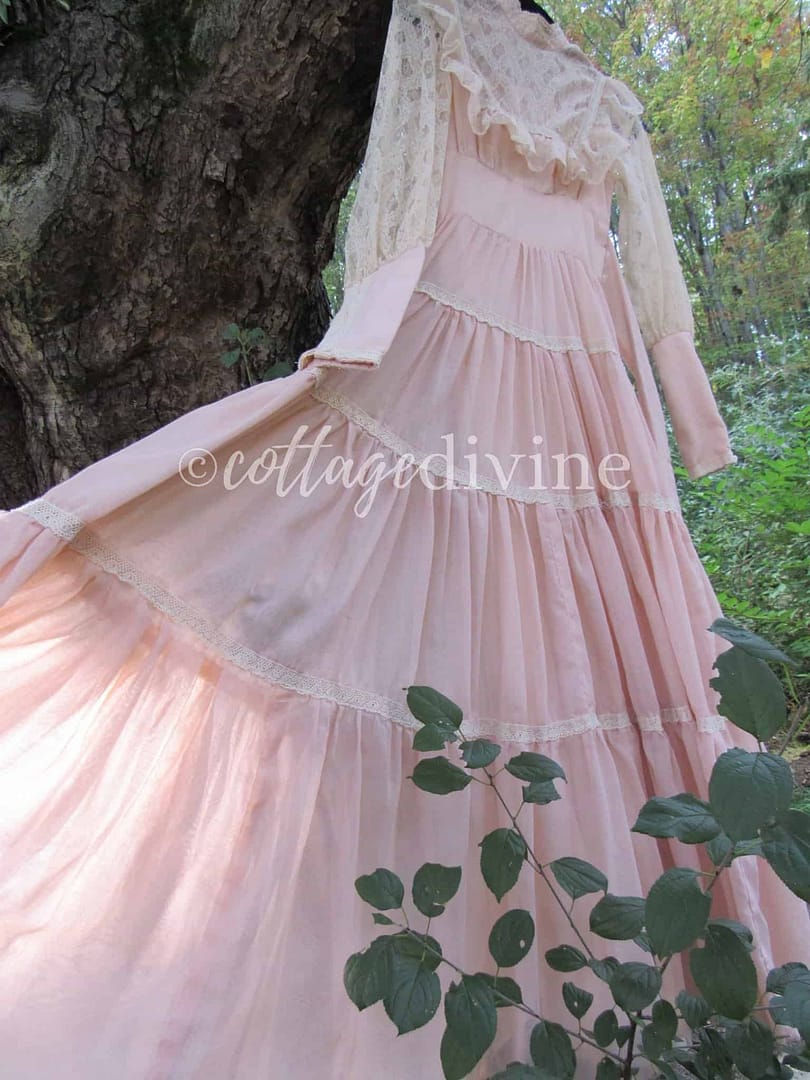 For so many young women today, some who are devotees of the cottagecore movement and in love with vintage labels such as Gunne Sax, Laura Ashley, Jody T and a host of other once popular labels, buying a new wedding dress was never a thought.
A brand new, ho-hum, dress off the rack just won't do. In their minds, there is no need for more clothing items that have a shelf life of perhaps eight weeks before they simply become part of a landfill. Many today who love the Earth deeply are becoming more conscious of their footprint on it.
Oh, sure, there are those who turn their nose up at so-called hand-me-downs. But oh, what they are missing out on!
The Transformative Power & Mystery of Vintage Clothing
The strong, divine feminine women who purchase vintage Gunne Sax or other iconic labels from the past know their strength, the power of their femininity, the special way the dress will make them feel. And when they are wrapped in their vintage dress – and in the love of all the women who wore that garment before– the two become one and she is transformed into a powerful, divine feminine with unlimited strength, creativity, and love.

Many of our vintage prairie dresses by Gunne Sax, Laura Ashley, Jody T, Candi Jones, Rags By Kressandra and other by-gone clothing labels have this incredible energy to them.
The young women who bought these dresses when they were new wanted to stand out in their femininity, they wanted to exhibit the romance of another era. They didn't want the drab mini skirt or unflattering bullet bra. They wanted to exude the essence of a goddess – the epitome of the divine feminine.
Many lived the meaning behind this powerful quote:
"You are a wild priestess with a courageous divine feminine heart and the spirit of wise ancients within. Never let them tame you. Stay free." – Ara
With EVERY Gunne, There is a Story…
When Eleanor Bailey and Carol Miller founded the Gunne Sax label in San Francisco in 1967, they probably didn't realize the profound impact their designs would have for women. When Jessica McClintock came along in 1969 to invest in the company, her vision of romance, femininity and nostalgia combined to create a line of iconic dresses that have been worn by movie stars, politicians, and everyday women. And with every Gunne dress, there is a story.
So go ahead. Do something for yourself. Find your dream vintage dress, whether it's a Gunne Sax, Laura Ashley, or any other label from the past.
And when you're searching, look for something in that vintage dress that calls out to you and says "I'm you're dream dress…" Whether it's the color, pattern, or simply because it reminds you of something special, do something for yourself.
Honor the Divine Feminine. After all, she is not only kind to the world, but also to herself.
And oh, how we all need more kindness in our world!