What is shabby chic decorating?
It's a little bit of this and a little bit of that.
A decorating style that appreciates worn surfaces, chipped paint and furniture that proudly displays all the charms of wear gleaned over the years, shabby chic brings together an eclectic array of vintage items with chic beauty to create a charming atmosphere – with a touch of elegance.
With a focus on white, florals (love those pinks, lavenders & seafoam greens!) and the natural look (old plank flooring) and  feminine floral wallpaper, decorating shabby chic style generates a light, airy feel to a room- a soft, romantic look.
What's the difference between shabby chic & farmhouse style decorating?
Farmhouse style is just that – its primary focus is on old and rustic, on simplicity and tradition. Shabby chic doesn't focus on any one particular era, but is eclectic in presentation.
And while farmhouse style features simple, plain furniture, shabby chic often boasts ornate furniture, with curved legs, delicate carvings, and memories from a by-gone era. Natural patina, dents, scratches, chips are all gloriously shabby.
Shabby chic is definitely feminine, romantic, casual – and downright comfy. The term is sometimes interchanged with vintage chic or country chic.
The Roots of Shabby Chic
The English countryside gave birth to many popular decorating ideas, and shabby chic found its origins there as well.
Many of the cozy, fairytale bungalow homes of the English countryside were quaint and simple, filled with worn, old furniture – not spartan, but certainly not overdone.
I've always thought of the shabby chic look as something from a fairy tale – an inviting cozy cottage, with an interior that combines vintage with a heaping spoonful of romance – you know, the place where a princess might live, amidst white linens, a thick plush bedspread, cabbage rose floral ruffled pillows, bed skirts and tablecloths, and flowing lace curtains just skimming the floor.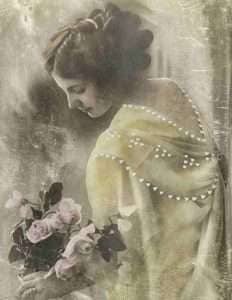 The 1980s and 1990s saw a resurgence in popularity of the shabby chic look. Rachel Ashwell is oft-considered the queen of shabby chic, as she coined the unique term in 1989 when she opened her shop in California.
Like any decorating theme, shabby chic has waxed and waned in popularity.  It's appeal surged back again amid the pandemic, as people found themselves forced to stay home. Perhaps that time away from the office allowed them to view their own living spaces as much more personal than they had before.
People desired comfort in their homes: they wanted a place that reflected warmth and coziness since they were spending their working hours there. Since there are no formalities to shabby chic, choosing your own vintage items (oftentimes from thrift stores or antique shops) can be as economical or as pricey as you determine.
You create your own comfort, romance, coziness, and nostalgia. It's a place of vintage relaxation: gently worn furniture, with its unique wear marks and perfect patina, lovingly accented with floral wallpapers, antique collectibles and a splash of chic elegance!
Combining Shabby with Chic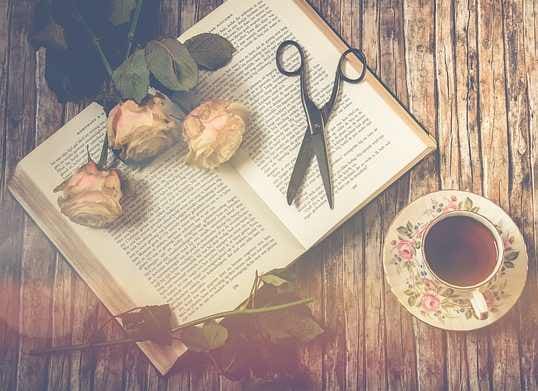 Start with one room in your home and begin with simple colors: experiment with white or light walls…almost like an artist's canvas. Whatever vintage items you choose to display on the walls, they'll stand out and bring warmth to the room.
Old floorboards can be painted white or any pastel color. Leaving the floor natural is certainly shabby chic!  Accenting with area rugs brings a cozy feel to the room, and oval and round fringed rugs add an element of coziness.
For windows, light and airy is so lovely: old barkcloth curtains are shabby chic divine, as are sheers and lace curtain panels, which offer a peaceful, billowy touch.
Soft and romantic vintage floral wallpaper is a must for many shabby chic aficionados, and accenting with plenty of ruffles and lots of lace brings on the romance.
And remember, combine old with new, and offset differing textures. If you love your vintage wood table, accent it with a newer silver frame. Many repurpose antique Victorian furniture and paint it white, and pair its opulent elegance with a simpler chair.
If some of your furniture is a bit too "perfect" – make it perfectly shabby by weathering and distressing it. Many modern products like Retique are a great way to make just about anything distressed in all the right places.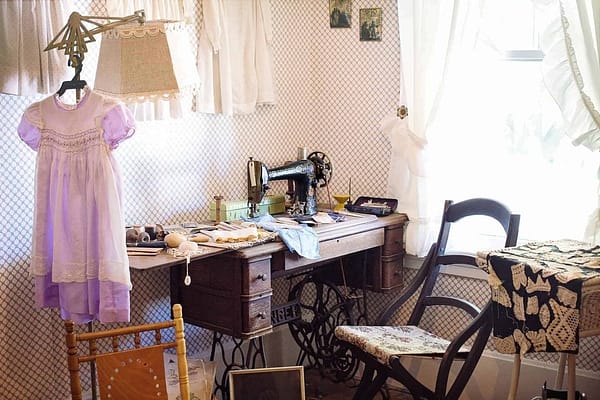 Mixing and matching is what creates that unique, lived-in look.
How does 'chic' enter the design style? By adding elegant items, such as antique French chairs or accenting with a splendorous chandelier … or another classic lamp fixture that puts "chic pizazz" into your room!
Shabby Chic Inspiration from The Cottage Divine
Close your eyes as you imagine grandma's old bedroom set from the 1940s…
Now worn and distressed, maybe it holds fond memories for you. Ahhh, it becomes the highlight of your shabby chic bedroom. Large and showy cabbage rose wallpaper cozies up the room, adorned with antique frames displaying family history.
A spectacular turn of the century table lamp adorns an antique marble top table, with a vase of silk roses adding to that romantic charm.
An old and frayed (just a bit!) armchair is nestled in the corner, with a worn antique foot stool. Showy floral barkcloth curtains add a bit of vintage elegance to the room, enhanced by a billowy lace insert. Your shabby chic room is almost done.
Almost.
The Shabby Chic Bedroom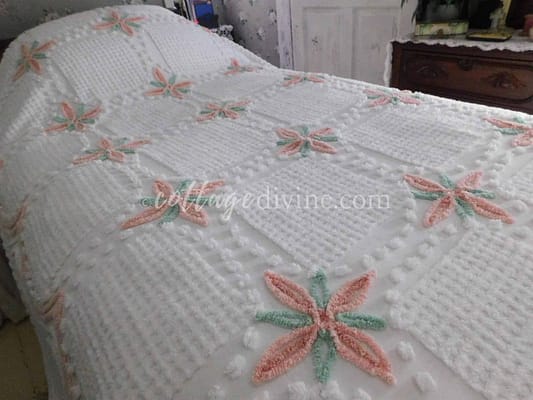 Bring on the chenille. Highlight grandma's old mahogany bed with a thick, plush vintage chenille bedspread. The bed and the room will come alive with its nostalgic charm.
Vintage chenille bedspreads offer such an endless variety of colors, textures, and patterns to make your shabby bedroom overflow with romance, comfort, and charm.
And don't forget, ruffled throw pillows made from vintage chenille fabrics emphasize the romantic look. Chenille slipcovers can add that romantic charm, too, and don't forget chenille ruffled skirting for that little round button-tufted footstool.
Vintage chenille adds old time warmth and coziness to any room.  It can be repurposed and upcycled for many uses: curtains, shower curtains, skirting, pillows, slipcovers, bath robes and even doors.' Yes, doors!
Replace that dull and ordinary door (like a bi-fold door to a closet) with a vintage chenille curtain.  Offsetting rooms with curtains was a popular decorating tool in grandma's days – and a decorating tip that proves shabby chic today – and useful.
Visit The Cottage Divine for the largest selection of vintage chenille anywhere in the world – and get inspired.
"A room should never allow the eye to settle in one place. It should smile at you and create fantasy…" – Designer Juan Montoya