Gunne Sax dresses were a coming of age for many young women growing up in the 70's.
As little girls, we all enjoyed donning our mom's and grandma's old dresses and skirts, long out of date, but oh-so-fun to pretend that we were grown up, beautiful, fashion queens.
Oh, we may have looked silly, but we felt like princesses, sprung from the pages of our old fairy tale books.
We were Rapunzel, and even Catherine Earnshaw from Wuthering Heights, with grandma's oversized dresses dragging the floor. Draped in yards of billowing sheers, cozy cottons, and velvet-trimmed skirts and dresses, with old wide brimmed hats with flowers and dainty netting on our heads – and of course, a pair of narrow toed, high heel shoes that made the most wonderful "click click" sound on grandma's kitchen floor.
 Oh, how lovely it was, to be in our make-believe world. We were dancing with handsome princes; we were the belle of the ball. We were fairy tale princesses in our imaginary world.
Vintage Gunne Sax Brings Fairy Tales to Life…
Then we grew up.
When we're little kids, we dream of being grown up. Yet, when we're grown up, we long for the care-free days of youth. Mom always had a saying:  little kids, little problems. Big kids, big problems.
Gosh darn, my mom was right about a lot of things. As a teenager, it was childish to wear grandma's vintage clothes – even though in our hearts, we still wanted to. We so longed to feel beautiful! Going through adolescence was no easy thing. Braces, acne, shyness and not quite an adult but certainly not a child anymore (although my mom would often debate that), we were wedged in between the awkwardness of youth and the graceful confidence of being a grown woman.
Then in 1967 our wishes came true, just like our fairytale stories said they would.
It was the Summer of Love, complete with flower children and hippies. What a time to be alive! We were crooning over The Beatles when they sang, "All You Need is Love."  And there was Van Morrison with the hit "Brown Eyed Girl," and "Light My Fire," by The Doors.
We loved our bell bottom jeans, our swede fringed purses and our leather clogs. It was freedom to have a style of our own – but the best was yet to come.
Gunne Sax made all our dreams come true.
Carol Miller and Elie Bailey, both home sewers, founded Gunne Sax in San Francisco. In 1969, they needed a designer and history was made when Jessica McClintock came on board. While not a schooled designer (she was an elementary school teacher who happened to have a passion for fashion), McClintock brought her vision of design – full of what would become her signature romance and nostalgia – to the young dress company.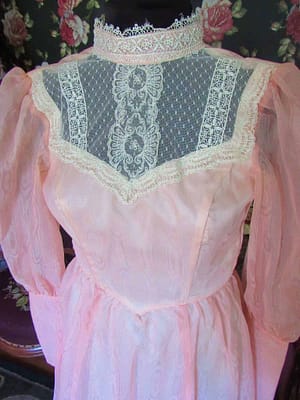 Her designs epitomized everything wonderful from our fairy tales: long, flowing gowns, oodles of lace and satin ribbons, ruffles, corset style bodices, and high Victorian necklines. McClintock often used inexpensive materials like polyester, acetate, or nylon, along with cottons.
She incorporated both Victorian and Edwardian dress styles into her designs. Her dresses often featured empire waistlines, faux petticoats, and leg of mutton sleeves – a full gathering of fabric on the upper sleeve that tapers to a tight fit below the elbow to the wrist.
We didn't have to pretend anymore!
We didn't have to dig out grandma's old clothes and make believe that we were fashion queens.
The Transformative Power of Gunne Sax
Gunne Sax transformed us: we were almost grown up, yearning to feel pretty, feminine, romantic. Gunne Sax and Jessica McClintock gave many of us the gift of feeling beautiful.
Owning a Gunne Sax dress was a dream for any young girl coming of age in the tumultuous 70's. I can still remember when my mother took me to Lerner's where the entire back portion of the store had racks and racks of Gunne dresses, a young girl's dream.
It was so hard to choose. I examined each one, running my hands along the cloth, the lace, the tiny pearl buttons.
Of course, I had to try many on. Moms are patient creatures. In and out of the fitting rooms I went, looking at myself in the mirror with disbelief:  This is me? I feel….so….beautiful!
It was a difficult choice, mom said she could only afford one dress. I choose a floral Gunne, with lace sleeves and corset top. It had a special place in my chifforobe. I didn't have a closet, since my bedroom was so tiny it barely fit my bed and a dresser.
After school, I'd take out the dress just to look at it. It was the most special thing I owned, for a 16-year-old. I probably wore it out just by looking at it.
Every Gunne Sax dress has a story.
Many women who purchase Gunne Sax and Jessica McClintock dresses from our shop are looking for "the one" they had when they were young. So many have stories to go along with their dresses! Many remember a special occasion: some purchased them for prom night, some for-bridesmaid dresses, and some, like Hillary Clinton – wore them as wedding gowns.

Today, a whole new generation is captivated by vintage Gunne Sax – many of whom were born decades after the original heyday, when Jessica McClintock's now iconic designs were gracing young women everywhere at the height of the prairie era.
Some dresses that we've purchased through the years have little notes enclosed, sharing the history of the dress. One peach colored Gunne Sax, with the original tags still attached, came with a handwritten card. Its message made tears well up in my eyes. In cleaning out her mother's home, she came across the Gunne Sax dress – never worn. It had been purchased for her sister, who passed away before she could wear it to her own prom some 40 years ago.
Sharing stories such as hers must have stirred sad memories, but she wanted the story to be known. And she wanted the dress to go on bringing some other young girl happiness.
There is something wonderfully enchanting about a Gunne Sax dress. It brings two worlds together: the make-believe dress-up world we loved as little girls, and the beautiful, feminine, and romantic young woman we so wanted to be.
Somehow, by buttoning ourselves up in those much-loved, flowing vintage Gunne Sax treasures, with its lace, ruffles, and buttons, we are able to make our two beloved worlds one: the dreams of youth and the beauty of being a woman.
See what vintage Gunne Sax dresses & skirts Charlotte Jane has in her closet…