"It's sad that bad things have to happen in order for us to stop and look around."
― Megan Duke
That's what happened to the world when the pandemic struck. It hurt. Not only in a physical way, but emotionally and mentally, too.
Let Your Spirit Be Moved By What You Love
In what seemed like an instant, our cherished routines were disintegrated. And yet, bit by bit, we began to piece ourselves back together. Slowly, many of us began to rediscover (or discover) things that we may have overlooked in our pre-pandemic lives – hobbies or pastimes that we shrugged off with the worn out, "I don't have time for that…" phrase.
Something happened for many of us during their forced lockdowns at home. Perhaps we were intuitively guided to things we longed to do, passions that were burning within us.
We began to seek out hobbies and pastimes that called out to us. During our pre-pandemic lives, we most often put aside our hobbies because well, there was just so much to do, with work and social calendars full of activities.
Rediscovering the Joys of Embroidery
And for many, there was the joyful rediscovery of stitching.
Maybe it brought back memories of mom or grandma's handmade works. Whatever the reason, a resurgence in the popularity of stitchery kits blossomed: needlepoint kits, stamped cross stitch kits, crewel embroidery kits.
Sewing, stitching and other DIY at-home crafts made a nostalgic comeback. Perhaps boosted by the cottagecore movement that so embraces a return to a simpler life, the once popular stitchery kits have become a sought-after item.
Buffalo's Pleasures & Pastimes Evokes Fond Memories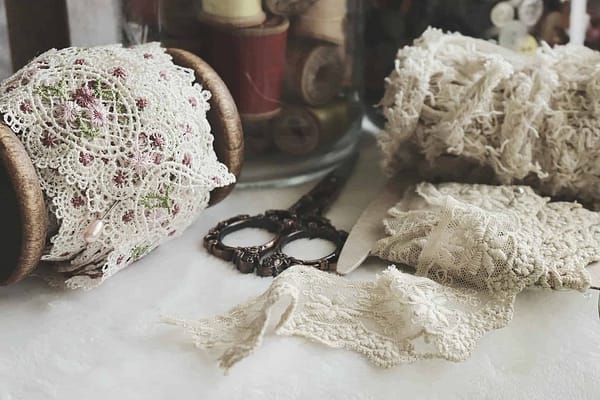 Some might remember the once beloved Buffalo-based hobby store born in the 1970s, Pleasures and Pastimes. The founders discovered their company by accident, listening to a suggestion to start a 'lady's hardware store."
After visiting a sprawling craft and needlework store, the owners converted a supermarket and created a true "lady's hardware store" – packed with the nuts and bolts for any stitching project. But alas, bigger and larger retailers won out over the small chain and during the 1990s, after 23 years in business, Pleasures and Pastimes was no more.
Maybe you've even seen a vintage stitchery kits bearing the old Pleasures and Pastimes price tag. But no matter what brand tag – if there is any at all –  tucked inside each stitchery kit, whether cross stitch, needlepoint, stamped stitchery, crewel, or counted cross stitch, is a soothing tonic, a tranquilizing way to let go of stresses, enjoy the art of stitching – and achieve a sense of accomplishment.
Enjoy the Benefits of Sewing, Stitching & All Things Creative
If you ask someone who cherishes embroidery, every project is almost like a prescription to remedy many of life's troubles.

Any type of activity that allows us to express and embrace our creativity has numerous benefits. It's all about:
Time just for you, away from the digital world, to let your mind enjoy peace…
A chance to relax – isn't that why many of us love our embroidery?
An effective way to refocus. By becoming absorbed in our work, worries and other troubles drift away.
The sense of accomplishment & pride we feel that can boost confidence in our abilities.
Oh…and we learn patience, which is always an important attribute in all areas of life.
Creativity can be enjoyed by anyone, of any age. In fact, researchers even concluded that even towards the end of life, art and creativity may "offer a path of opening up the windows to people's emotional interiors."
Not only that, sewing and other artsy creative endeavors can improve our hand-eye coordination, enhance dexterity, and even lower blood pressure while boosting levels of feel-good hormones in the brain!
We Are Stronger At The Broken Places
Throughout history, sewing & crafting has helped humans endure supremely difficult times and challenging circumstances.
So while the pandemic may have 'broken' our old routines, we mended in different places, as Ernest Hemingway so aptly noted:
"The world breaks everyone and afterward many are strong at the broken places."
A great many are mending their broken places, sewing and stitching their lives back together and finding a new meaning, a new joy, and most importantly – a more positive view of themselves and a joyful pride in the work of their hands.