Looking for an effortless way to easily add just a hint of cozy nostalgia without overpowering your space?
Vintage chenille pillows are the perfect choice.
They can uplift ordinary decor into a cottage chic dream, creating a warm, appealing and comfy atmosphere that invites relaxation and beckons one to unwind from the stresses of the world.
Chenille Throw Pillows: Puffs of Fluff Are a Decorating Dynamo
The endless colors, textures and patterns that vintage chenille offers means that you can create decorative throw pillows that are exclusively your own design – and not any standard, look-a-like, big box store décor.
If you're bored with blah colors and plain-looking pillows, you're ready to discover the transformation that vintage chenille throw pillows and pillow shams can bring to your home.
Vintage chenille fabric offers up an array of florals, geometrics, single colors, unique textures, dots and pops and even animals. The only limit is your creativity – and there's no limit to that, right?
So, are you ready to transform your room from an ordinary living space to cozy cottage chic?
First…Just What is Vintage Chenille Fabric?
It started with a technique known as candlewicking, whereby bedspreads were embroidered using tufts of yarn.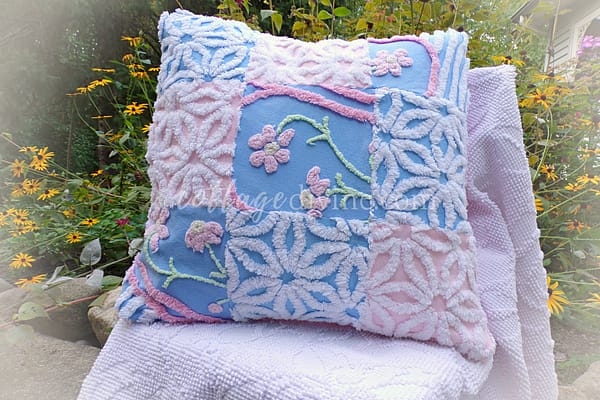 One creative woman – Catherine Evans Whitener from Dalton, Georgia – elevated candlewick bedspreads to a new realm: the birth of the chenille bedspread whose heyday spanned decades. She saw a candlewick bedspread, noted that strands of tufts were pushed through fabric and then clipped, which produced a fuzzy look, just like a caterpillar.  The tufting became known as "chenille," which is the French word for caterpillar.
Catherine created a replica of the bedspread she saw. Her bedspreads soared in popularity – so much so that she hired others and taught them the craft. By the early 1900s, multitudes of women were crafting chenille bedspreads from their homes.
In the 1930s and beyond, passerby were able to catch a glimpse of these unique bedspreads, displayed along Highway 41 in Dalton, GA. Instead of large and bold billboards dotting the highway, vintage chenille bedspreads were flapping in the wind, in a range of colorful offerings from splashy, flashy peacocks to elegant cabbage roses.
Vintage Chenille Pillow Cover = Cottage Chic Magic
If you're not familiar with vintage chenille, you're probably wondering 'what's so special about it?'
I've discovered just what is so captivating about vintage chenille.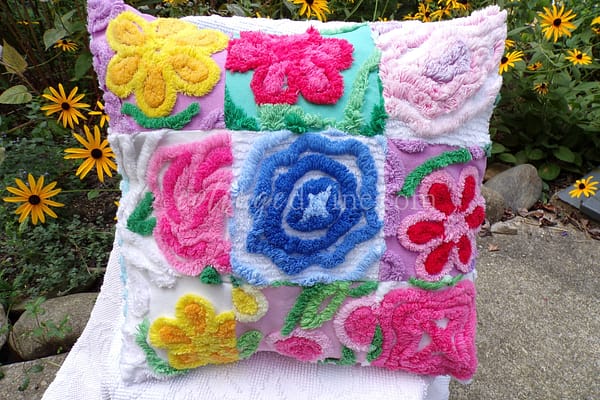 It's simple, actually.
The magic is tucked deep inside all those velvety thick, fluffy tufts.
And magic there is.
Love.
And isn't that what you strive to bring into your home?
Chenille accent pillows are an easy way to add a touch of cozy nostalgia in any room.
Make Your Own Vintage Chenille Throw Pillow
Have you ever thought about making your own DIY chenille pillow cover? It's a great sewing project for beginners – here are a few suggestions to get started:
Check out YouTube videos for ideas, inspiration & easy sewing tips.
Decide what size pillow works best in your space – this way, you know how much fabric you'll need. Don't forget to account for both front and back fabric.
Envision what shape you love: rectangle and square throw pillows are most common, but you can make anything you want. Think: heart shapes, circular pillows or novelty styles that depict animals, flowers or other shapes.
Determine your fabric preference. Do you like a single fabric – or an eclectic patchwork design? If you love the OOAK look of patchwork, you can use quilt squares or fabric scraps.
What about the back of your pillow – do you prefer an envelope style back, or would you rather sew it closed? Also choose whether to stuff & seal, or to use a pillow form insert.
Now the fun part: find your fabric! The Cottage Divine is the largest remaining supplier of original vintage chenille in the world; you can also shop online to find the fabric that's perfect for your creative vision.
It's rewarding to create your own design, because whether you're decorating a bedroom or a living room, accenting with vintage chenille decorative pillows is a simple way to transform your living space.
Upcycling vintage chenille bedspreads into a one-of-a-kind pillow sham can add the charm of an old-fashioned bed-and-breakfast in your bedroom. Whatever your décor, adding even a few small chenille accent pillows can bring a room together in a big way.
Psst…if you appreciate texture, vintage chenille is the fabric for you. From the tiniest raised rosebuds to giant cabbage rose designs…puffy pops & dainty dots…zig-zags and fluffy stripes…the versatility chenille fabric offers is impressive.
Pillows may be a small decorating item in comparison to larger items like a couch or a large painting, yet they present the finishing touch that can highlight your design features and create that sense of "welcome home" – an inviting ambiance of relaxation, and an energy of peace.
Where to Buy Vintage Chenille Pillows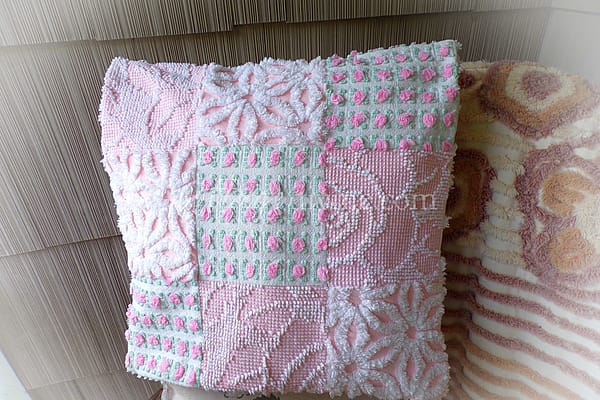 Maybe you don't have time to sew your own DIY chenille pillow…you're just not into sewing…or you're looking for a quick, ready to display pillow without the extra steps of choosing your own fabric, cutting everything out, and sewing it all together.
The easy solution: buy a ready-made chenille throw pillow. Shop our selection of cottage chic, shabby & farmhouse style pillows. We're always adding new designs, so you never know what you may find…
Most of our chenille throw pillows feature an envelope back so you can slip out the insert for easy laundering. Our inserts feature a zipper so you can adjust the level of the polyfil stuffing to achieve just the look you most prefer. Some people love overstuffed pillows; others could do without all that extra fluff 😊
Decorative Chenille Pillows Make Great Gifts
Whether you're making your own DIY design or shopping for throw pillows online, let your creativity flow! If you're the crafty type, buy a vintage chenille bedspread and upcycle the ruffles, pom poms or fringe to accent your throw pillows. Chenille bedspreads often featured a variety of trims that crafters love to incorporate into their designs.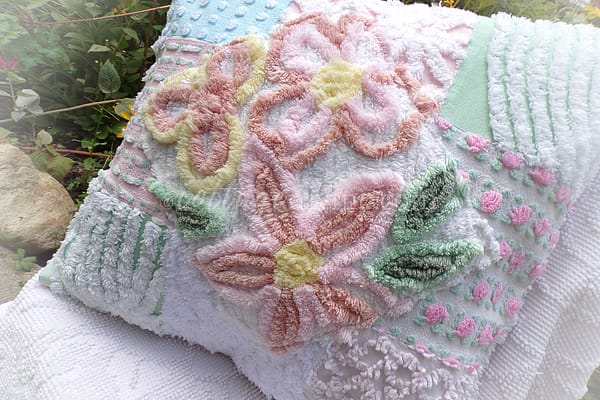 If you're lucky enough to find a pair of vintage chenille bedspreads, you can use one to create a matching pair of pillow shams. Or, simply choose complimentary fabric – whether that's more chenille or other cottage chic favorites like chintz or barkcloth.
Looking for a lovely gift idea? Consider gifting a beautiful chenille pillow – they make excellent gift ideas for that special someone. Surprise a loved one with a little pillow to enliven their space.
Throw pillows may be a small part of your overall interior design, but their effect delivers a big impression!